Principal functions
Maintenance and supply of living cultures of Baltic and freshwater algae from Poland.
Research and environmental applications, provision of educational materials and algal depository.
General information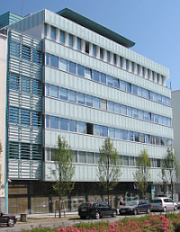 The CCBA collection of algae, established in the mid-1980s by Dr. Adam Latała, has university status. The CCBA collection is part of the Institute of Oceanography of the University of Gdańsk and is run by the scientific team of the Laboratory of Marine Plant Ecophysiology (PERM). The university covers all personnel costs and provides breeding rooms and laboratories. CCBA collection maintains the strains of Baltic cyanobacteria and microalgae and a more limited number of freshwater or marine cyanobacteria and microalgae and small multicellular seaweeds collected from a various range of habitats. The culture collection specializes in obtaining plant organisms from the Baltic Sea and Poland and constantly increases its resources with new isolated strains. The cultures are unialgal, mostly non-axenic. With proper approval, selected strains are available for research and education purposes free of charge. They are available for purchase by commercial enterprises. Some of them are available for distribution, others are still being described or researched. We do not distribute strains from other collections. All strains are listed with a serial number (CCBA). Please use this number when referring to a publication or when requesting any collection strain. The strains can be used by all interested persons and organizations. Full information on the strains of cultures (availability, ordering, delivery, etc.) can be obtained from the collection manager.
Laboratories, along with equipment for growing algae under controlled conditions, can provide a favorable environment for experimental work on topics such as ecophysiology, taxonomy, ecotoxicology and phylogenesis of algae.
Specification

The CCBA collection includes both original strains isolated by ourselves and strains obtained from collections of world cultures. Currently, about one hundred original isolated strains of Baltic cyanobacteria and Baltic algae and about one hundred strains obtained from other collections are available. The laboratory resources of the CCBA collection are three thermostated rooms, adjustable from 10 °C to 30 °C and with light / dark cycles. Culture aeration gases are available and can be used extensively. In addition, there are also eight smaller light / dark cycle incubators, capable of maintaining a constant temperature (± 1 °C) of 5 °C to 40 °C and regulated light intensity. A laminar flow chamber is used for aseptic work with grafts. The CCBA collection also includes laboratory devices such as an autoclave, laboratory glassware washer, refrigerators, fume hood, LM microscopes, HPLC set, AA spectrophotometer, Coulter counter, laboratory balances, sonicator, water purification equipment, microrespirometer, flow cytometer, PAM fluorometer and laboratory photobioreactors.
Skills
isolation and culture of microalgae strains
bacteria-free culture techniques
growth optimisation and ecophysiological characteristic of algae
measurements of biomass production, photosynthesis and respiration
CCBA Content
now the collection contains tens of original strains isolated from the coastal waters of the Southern Baltic
the strains represent cyanobacteria, green algae, diatoms and microflagellates
the strains show marine, brackish and fresh water character
Objectives
creation of the first and modern algal culture collection in Poland;
isolation of new strains from Baltic and Polish inland waters; special attention is paid to algal species threatened by extinction, rare, harmful or typical of Polish region;
extension of the knowledge of algal biodiversity;
preservation of microbiological and biological resources of the region;
utilization of the strains from the collection for research, educational, industrial and commercial purposes;
investigation of different environmental factors to determine optimal conditions for algal growth;
exploitation of the Baltic strains in ecophysiological and ecotoxicological studies.